Ashley Cusick (AC): I actually didn't know you went to Vic [Victoria University of Wellington] until recently. I assumed since you're from Auckland that you studied up here. What made you decide to go to Wellington?
Vanessa Coxhead (VC): There were a few things. Some of them are really practical reasons. And some of them, now I've realised, were maybe luck. I'd always wanted to find a reason to live in Wellington. I really liked the city and the compactness of it.
In hindsight, the thing that I didn't quite appreciate was that, at Vic, the people in first year were wanting to study architecture, landscape architecture, interiors or building science. With about 300 of us in the first year studio, you had a really diverse group, from people who had been in the building and construction industry to students straight from high school. And that sort of collaborative and cross disciplinary approach continued through the years. Most of the papers I took were architecture based, but some electives and other professional practice papers made you work with people that were pursuing another pathway in that same school, which was really cool. 
AC: You did your first degree in visual art, though. How did you make the choice to go back and study architecture?
VC: I actually went to AUT [Auckland University of Technology] straight from high school; I wanted to be a graphic designer. I did the first year and then decided that graphic design was not the right pathway for me. I found it too rule based and rigid, so I transferred into the visual arts programme.
I completed that degree, and a week after our final year exhibition I was on a plane to Christchurch to take up a position at The Physics Room. I was going to cover a maternity leave position for a year and I ended up being there for eight years. The scene in Christchurch was really, really great at the time: the art scene the music scene, just all of it was really sort of starting to bubble and grow.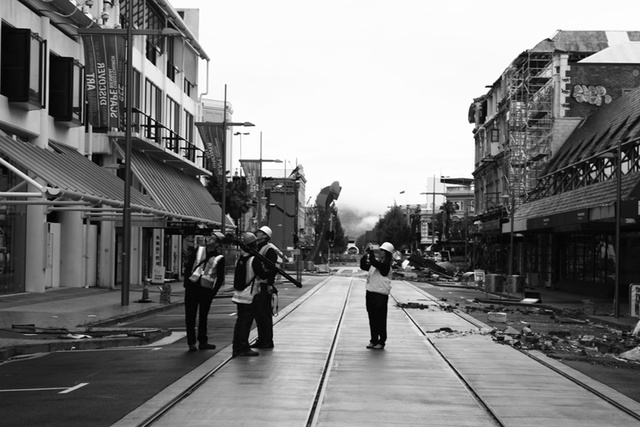 AC: What this before the earthquakes?
VC: Yes this was in 2004 to 2011, and it overlapped with the earthquakes in the end. While I was working in the Physics Room, I also started PechaKucha in Christchurch with some friends. Through that, I ended up getting involved in organising talks by visiting architects and with the NZIA in Christchurch.
Then the September earthquake happened, and I was invited by the NZIA to help them manage an exhibition called Before/After, which looked at providing the public with a way of evaluating their city and what they might want to have happen. A week after it opened in the foyer of the Christchurch Art Gallery, the February earthquake hit and the conversation was immeadiately different. Lives had been lost; the city's fabric was substantially damaged compared to prior.
The earthquakes weren't what led me to study architecture. But, the conversations that I was having with people in the industry in Christchurch before that were. I was incredibly lucky to meet a bunch of people that were working at large and small practices and the Council. I also had quite fantastic chance encounters and meetings with the likes of Ath [Ian Athfield] and Peter Beavan.
I've got this great memory of Peter driving me around one day in the city taking photos so that he could give a PetchaKucha talk, because he had no photos. He agreed that he would do it if I took the photos with him. So I sat in the passenger seat, with this hugely present man in the tiniest car, and he just yelled at me, "Get out! That one! Over there!" It was the most amazing experience. 
My conversations around architecture and the city were engaging me more than my work conversations. So, I made the call to leave Christchurch and go travelling, think about things and experience cities and places around the world and work out in my head if architecture school was the right move for me. And it was.
AC: You still have your ties to the art world, but looking back now that you've practiced architecture for a couple of years, was it the right call? Do you ever miss working in a gallery setting?
VC: A day in the life of the [architecture] studio – no matter how much you try and be organised and plan your day, sometimes you end up doing the wildest things. You get surprised: a situation can occur with a client or a consultant, or an opportunity can crop up and you take it. Especially as someone who is still gaining experience, even just simple conversations around how to negotiate particular things, it's all learning. Some people might find it really boring, but the business side of architecture is really interesting as well. Between both of those things, you cover a lot of bases. So, I think I'll be doing architecture for a long time.
It's interesting because a lot of people said to me, "When you finish architecture school are you really going to go and practice, Vanessa?" And, a whole bunch of people thought that I was going to stay within the academic world. I still love teaching and having contact with the students, and I really want to foster that again and get back into it. But, no, practice is for me. I think that I need to understand what being an architect is before I can start to have an adjacent profession alongside that, which I'm not discounting. To be a registered architect and to be able to participate properly in that world, for me, is really key. Then anything else that you can weave or thread into that will be beneficial.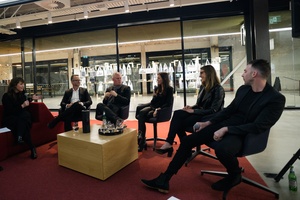 AC: You've been the coordinator for the Auckland iteration of the NZIA Festival of Architecture for a couple of years now. What were some of the best moments for you from this year's Festival?
VC: A major highlight of the Festival for me was engaging with everyone that was involved in it. It was fantastic. I've made lots of new friends and colleagues, and I love being able to introduce other people and connect them up. Then, you just watch their conversations go on and continue, and you're like, wow, they may have never met unless they went on that walking tour or had to sit next to each other at this talk. 
Some of the events were also massive highlights for me. This year, working with the team at Objectspace was amazing: the show and talk series that Kathy Waghorn curated there, Making Ways, enabled people to speak that you often don't get to hear from, which was really cool. There were lots of other smaller events too. One day I was hanging out at another architecture practice for Open Studios and I met a group of tourists from South Africa. They'd seen the Festival of Architecture online and the singage around town, and they were engaging with it; and they were members of the public. That was great to see.
AC: And you also worked on a project this year titled Soapbox. How did that come about?
VC: Auckland Council put out a call for expressions of interest for temporary artworks to mark the 125th anniversary of women's suffrage in New Zealand. I was working at Jasmax at the time and would get together with a number of my colleagues in our lunch breaks to put together this proposal. It was selected — and I think there was a moment of thinking, oh, we're going to do this thing. 
After seeing the brief, we tossed around many, many ideas and then landed on creating a plane rather than a vertical, memorial-type object. Another idea that we were really keen on is that the work was able to be activated, whether or not that meant just by any passer-by or for a specific event. And obviously, when you have something that's able to be interacted with and walked upon, you then throw up a whole bunch of health and safety issues. So, we negotiated all of that carefully. 
Working with Auckland Council's public art team really pushed us to keep progressing the project and developing the form of it, the colour, the pattern and all of these things well beyond what it was initially. That was very cool and challenging at the same time. It got launched in May, a tad later than expected, but the Council launched it with 'Soapbox Stories' — an event that looked at what the Soapbox was there for. So, they invited a bunch of incredibly inspiring women from Auckland to recite poetry or song or spoken word with a focus on suffrage and the future of feminism.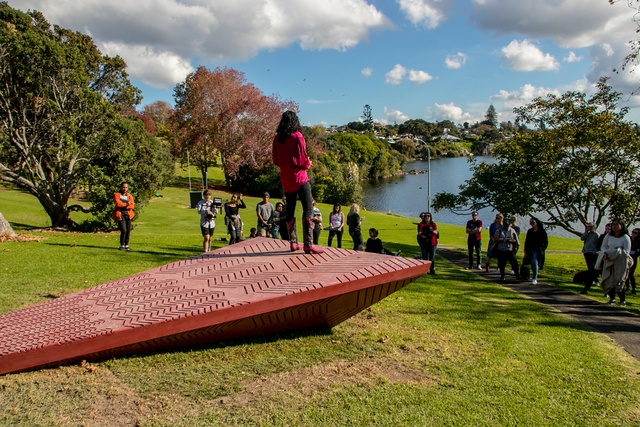 AC: What drives you to dedicate so much of your time to these events that benefit the wider industry?
VC: You can definitely say I was involved with the NZIA before I was even involved in architecture – that was happening when I was in Chrischurch. And then when I moved to Wellington, I was asked to join the branch committee when I was still a student, and I did that. Then I had the chance encounter of meeting Sam Aislabie and Natalie Bradburn, who were studying at the University of Auckland at the time. Together, we reestablished SANNZ, got that back on its feet and had a really fun time kicking off the 24 Hour Design Competition again. Natalie, Sam and I have remained friends, and it was fantastic to be part of a wider conversation between the schools of architecture in New Zealand and Australia
AC: It sounds to me like connecting people and being part of a community is a big force behind it.
VC: There's a joke around that Vanessa knows everyone. It's partly true, but I also don't know everyone, that's impossible. I'm really fortunate to have built good relationships within the profession and slightly wider community. I just really like people. The conversations and what you can learn from people that have a lot more experience than you are amazing. As a graduate, without much experience in the profession proper, you often don't get invited to the table to have those conversations. But when you're able to activate and organise things, and you can play a part in deciding who might be at that table, it's quite a good place to be. 
I was always an advocate for architecture in a wider sense of the word and that it's not only other architects that should be playing into the conversation, but other built environment professionals and also just the people in our cities. By enabling people to participate in the conversation, I think – or hope – it will eventuate in better cities for all of us. Architecture can be seen as quite elitist sometimes, or people have a preconceived idea of what architects do, and it's always rewarding to be able to demonstrate that it's about more than that. 
AC: How do you think all of this extracurricular activity – the Festival, your ties to the art community, your background in visual arts, your connections with people – feeds into your design philosophy?
VC: I don't know if I've nailed that [a design philosophy] yet. Isn't it always evolving as you grow and learn and develop? But, I think it feeds in hugely – mostly around being engaged in conversations and being constantly inspired or challenged or frustrated or having my eyes opened up to things. There might be something in borrowing methods from the art world as well. I try and keep engaged in the not just the visual art world, but also performance: theatre and contemporary dance, – which I love, but it's really challenging – and comedy. I try and go to these things and learn more.
I'd like to think I can kind of integrate a broader thinking because of this — but I'm also well aware of this being a privileged position to be in. It's also nice to be able to converse with clients about their favourite artists and events or things that they've been reading or watching or listening to that have inspired them and their thinking. But I'm unsure where the collision happens or how it's being shown at the moment – and I look forward to this realisation.
AC: I think that will evolve and become clearer as time goes on as well. I suppose since architecture is such a human-centred discipline, the fact that you are so involved with different groups of people will surely only positively influence your designs.
VC: It is cool, but it can also be quite onerous as well. Sometimes I find it really challenging to package it all up and file it away somewhere and just understand the project for what it is. Sometimes it can create a bit of 'fuzz', and then you need to be able to shift through that; though that's not necessarily a bad thing.
AC: I find you often use your various platforms to discuss topics that are important to you like diversity within the industry, which I admire. I know it's difficult to boil down to a short soundbyte or couple of sentences, but do you have any advice for young graduates coming up to foster inclusivity? 
VC: We are fortunate to be living in a very interesting time; we have more support around us now, but I think it's about finding someone, or some people, that you can have open and honest conversations with and just be really confident in doing so. That's easier said than done though. I have often found that when you're confident, you can get knocked back. But, with that confidence, be competent. Also, be really aware of your surroundings, challenge yourself, be open to learn, and be quite optimistic about what's ahead.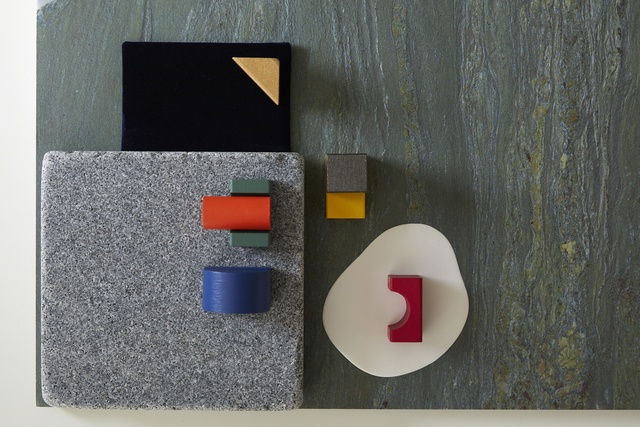 AC: As part of the On the Rise series, we ask participants to create a mood board using Resene colours. Tell us about what you've created and what inspired to colours you chose. 
VC: The colours chosen have been inspired by my interest in contemporary jewellery – especially contemporary New Zealand jewellery that has an innovation and originality unto its own. It's an interesting beast. They are pieces of art that you choose to wear, and when they are worn, they are always with you – something that I've become more aware of as I've relocated my physical self and belongings, or packed up to travel around the world. Jewellery can also play a social role, especially with its identity-projecting possibilities.
The idea of what is precious is challenged with contemporary jewellery, both through material, colour, the objects distinctive forms, and through the process – understanding (or perhaps not understanding) how a material will behave under different conditions. I've used this inspiration to create contrast, balancing the vibrancy and sparkle with muted earthy tones, or vice versa, and highlighting the natural elements with contrasting colour.
AC: And finally, what are you looking forward to for the future?
VC: Registration is a thing that's very much there. It won't happen overnight and I've got a few more hours to get on the clock first. I also want to get back into doing some teaching. But, I'm adamant about registration first. Once you've gone through that process of accumulating experience and knowledge through delivering a project to the level of being able to complete a case study and engage in a professional conversation, then I feel you can really start to unpack the profession and what it's all about. It shouldn't have to be the case, but hopefully, it can enable you to be in a position to confront some issues or start to actually analyse what's going on.
I really want to get on site with a project, and hopefully that's not too far away with two exciting projects I have on the go at the moment. To work on and see something through from start to finish, I think will be really amazing. And, I definitely want to continue the engagement with the wider community. It fills me with lots of excitement to think about some of the work my peers are doing and what we can share. Things don't happen with just one person, so I think the future is really exciting.
Catch up with the others in the On the Rise series here.